XenoGuard 4.0 has many improvements and innovations compared to the older version 3.0, which was used under a different name in the automotive industry. We have summarized the most important changes for you on this page.
XenoGuard Variants
XenoGuard is available in three variants: Basic, Plus, and Premium

See the Features and Subscriptions Comparison Table to get information about the version differences.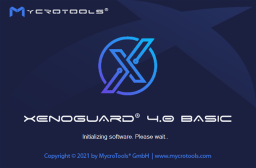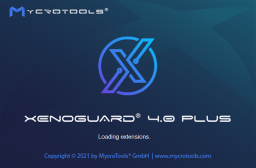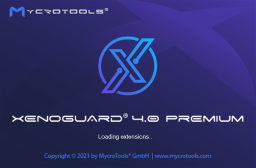 New windows and functions in the user interface
New dark interface design

Currently, only the dark design is supported. In 2022, more designs will be added to choose between.

Support of different languages (from 2022)

Currently XenoGuard is published in English. A language selection will be offered in 2022.
Breakpoint-Window shows all breakpoints and offers navigation between them

With a double-click you navigate to a breakpoint. Breakpoints can be enabled or disabled.

Bookmark-Window shows all bookmarks and offers navigation between them

Bookmarking is useful when you want to tag different areas that you want to switch back and forth between frequently. Also during script execution.

Execution-Window shows an overview of the last executions

In the new Execution Window you can see all the last and current executions.

Error-Window offers a clear representation of all errors

The error window displays three error categories:
General Errors
Editing Errors
Execution Errors

Scheduler-Window for time-controlled script executions and repetitions

ActionScripts can be executed repeatedly in the Scheduler window. The following trigger types are supported:
Start
Periodically
Schedule
Dependency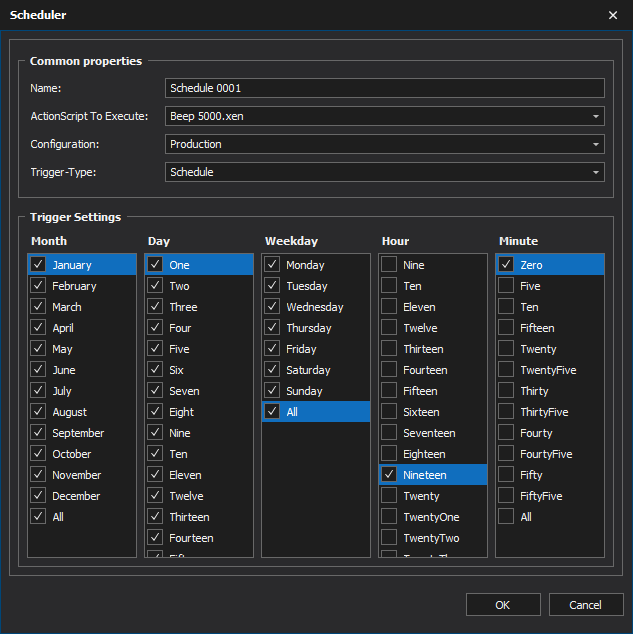 ActionScripts can be closed individually using their tabs

Each tab has its own icon for closing the window (see Factorial Of Number.xen):

In the Workspace Explorer, ActionScripts and their parent folders can be moved, copied, and deleted
Workspace Explorer displays dependencies between ActionScripts
Action script editing functions
The property window has been removed: The data is entered and changed directly in the ActionScript
A table view of all parameters in an ActionScript
Drag&Drop parameter values (Value, variable, parameter, etc.)
Not saved ActionScripts are automatically saved and restored at XenoGuard launch
Unified window for entering parameter values and for selecting variables, parameters, and other identifiers
Cells you are working on or point your mouse to are highlighted in color
Compact representation of actions in the script
Each action shows its lists and parameters during editing and execution (e.g. arguments and results)
Errors are shown in a scrollable bar (Red, yellow, and blue for errors, warnings, and information)
Editing and execution errors are shown in the error window and highlighted in the ActionScript
Catchy flags for Expected Error Levels on the left
Bookmark management for ActionScripts
Arrows for indicating connections between ActionSteps
Results in the result lists can be re-used without tying them to variables
Page-by-page scrolling for longer results lists
Unified area for line numbers and indicators of all breakpoints, bookmarks, and errors on the left side of an ActionScript
Improved toolbar for managing node groups
Improved toolbar for error navigation in the ActionScript and errors tab
Graphical header per actionScript: Data is fixed in the actionScript and updated automatically
Comment out and uncomment lines in ActionSteps: improved functionality
Errors and definitions of an actionStep are removed if commented out
Improved preview of errors shown directly in the actionScript (indicator area and scrollbar)
A better overview of comments in a graphical box ("Comment in a box")
Comments are wrapped in two lines
Script execution
Simultaneous execution of independent actionScripts with execution visualization
Visualization of the execution status in the status bar (green, red, yellow, blue)
Timed execution of an ActionScript using an integrated scheduler
The results of an execution are preserved during editing and are manually reset
Execution errors displayed in the error window at runtime
Overview of fast-Executed paths with pulsating, glowing effect
Script debugging
Interrupt (Running execution - Break)
Interrupt at a specific position (Break At)
Single-Step with F6 and Step-Into with F7
Overview of all values at runtime
Automatic opening and closing of result lists after an execution (Single step mode)
Breakpoints are displayed at the beginning of the line in the indicator area
Breakpoint management (Set, remove, deactivate, etc..)
facilitated breakpoint management with a breakpoint window
Improved Synchronization of the editor view and running executions
During execution, a current path is not abandoned (parallel running branches are ignored)